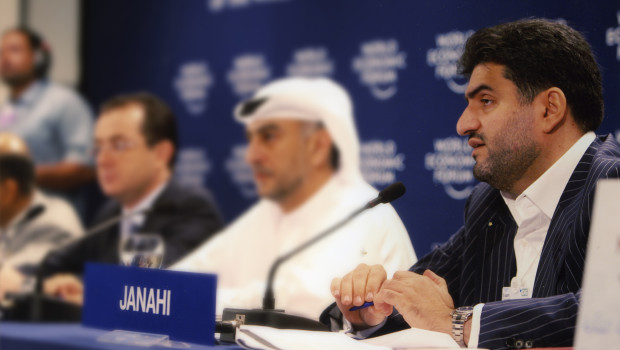 Esam Janahi quickly established himself as a leader in the fields of traditional and Islamic finance, at both regional and international level, particularly regarding the funding of major commercial infrastructure investment projects. Janahi's success comes from various flagship initiatives including the launch of energy cities in Qatar, Libya and Kazakhstan and a series of financial harbours in Bahrain, Tunisia and India, to the point that he is considered by some as one of the initiators of a new era of Islamic finance in Gulf countries and the Middle East region.
Esam Janahi is a regular speaker in high level conferences and international events in the financial sector, such as the World Economic Forum. He has received numerous awards, including Islamic Banker of the Year, WIBC  (2003), CEO of the Year (Datamax ranking 2005), Young Global Leader, Young Arab Leaders Organisation, he received Sh. Mohammed bin Rashid Al Maktoum Award for Excellence and Contribution to Islamic Finance Development at The International Islamic Finance Forum (IIFF)(2006), Rafiq Al Hariri  "Leadership in Investment" Award at the 12th Arab Economic Forum. Eventually, Esam Janahi was listed amongst the "Gulf Power 25" by Times Magazine, London.
Education
Esam Janahi studied at the University of Petroleum and Minerals in the Kingdom of Saudi Arabia, where he graduated with a bachelor's degree in Industrial Management (1988). He then studied Business Administration at the University of Hull in the UK. Esam Janahi is also Honorary Doctor of the Geneva School of Diplomacy and International Relations, for his contribution towards the accelerating growth in emerging economies (2008).
Career
Esam Janahi began his career as an auditor with Arthur Anderson (1988-1989), then as a financial consultant with Merrill Lynch (1989 – 1992). He then held various strategic and operational senior positions at the TAIB Bank (1992 -1995) and the Islamic Investment Company of the Gulf (CIGI) (1995 – 1996). Between 1997 and 1999, Mr. Janahi worked for the First Islamic Investment Bank (Arcapita), in Barhain, where he served as Director and Executive Committee member.
Since 2001 Esam Janahi has participated in the creation and management of many commercial and investment banks in the Gulf region, the Middle East and Asia (Capivest, First Leasing Bank, Innovest, Arab Finance House, Khaleeji Commercial Bank Bahrain Islamic Bank, Asian Finance Bank, Gulf Finance House, First Energy Bank, Abu Dhabi Investment House, Masraf Al Rayyan, Qinvest).
He also has extensive experience in the creation and management of companies, particularly in the industrial sector, including Bahrain Aluminum Company Excursion (BALEXCO), Cemena or MENADrill.
Anecdotes
In 2008, Esam Janahi created the British School of Bahrain, a project in which he invested over $ 100 million from his personal fortune. This school is now regarded as one of the best private schools in Barhain based on the Qualification and Quality Assurance findings

VIEW PROFILE LINKEDIN